Customers are people first. Each of your customers, like everyone else, wants to feel valued. It's a basic truth: we all want that sensation and will choose those who can provide it to us.
It's no wonder, then, that studies show happy customers are more likely to return and even spend more money. In fact, according to a study done by NewVoiceMedia, U.S. businesses lose $41 billion annually due to poor customer service.
Clearly, making your customers feel important should be a priority for any business. But how exactly do you go about doing that? Here is what every business owner needs to know about providing great customer service in four easy steps to help you make your customers feel valued and appreciated.
1. Respect and appreciate them
Sounds simple right? Show your customers respect in all of your interactions with them, both online and offline. This means being polite, professional, and prompt in responding to them whenever they reach out to you. It also means thanking them for doing business with you, sharing positive feedback about them on social media, and recognizing their contributions when appropriate.
Your customers should always be able to reach you when they need to. Whether it's by phone, email, or social media, make sure you are always available to answer their questions or address their concerns.
There are many different ways that a business can show respect and appreciation toward its customers. Some of the most effective methods include:
Greeting customers warmly and with a smile when they enter your store or business. Online this means welcoming them to your website or social media page and thanking them for visiting. This demonstrates that you value their presence and shows that you are genuinely interested in getting to know them better.
Make eye contact and take the time to listen to what your customers have to say. This shows that you value their input and that you are truly invested in understanding their needs and concerns.
Respond to customer inquiries promptly and professionally, whether they reach out to you by phone, email, or social media. This shows that you are always available to address their concerns and that you take their business seriously.
Thank customers for their business, share positive feedback about them on social media and recognize their contributions when appropriate. This helps to foster a sense of loyalty and appreciation among your customer base, which is essential for long-term success.
Treat them how you would want to be treated
The golden rule applies to customer service as well! If you treat your customers the way you would want to be treated, with respect and courtesy, they will definitely feel important and appreciated.
Overall, by making your customers feel valued and respected, you can build stronger relationships that will help to drive business growth and increase customer satisfaction over time.
2. Personalize their experience
Take the time to get to know your customers and what they like and dislike. This will help you personalize their experience with your business and make them feel like you truly care about them.
This can be done by asking questions about their preferences and by listening carefully to their feedback. Additionally, you should always be available to address any concerns or questions that they may have, and try to be as responsive and professional as possible in all of your interactions. By providing personalized service that is tailored to their needs, you can help make your customers feel valued and appreciated, which will ultimately strengthen your relationship with them and encourage them to continue doing business with you.
Make it their choice
Ask what their preferences are when it comes to the products and services that you offer so that you can provide only what they want, rather than wasting time trying to sell what you think they need or should have. They will appreciate this very much!
Do not send them irrelevant emails. Everything you do should be tailored to the client and should center on them. Allow your clients to have complete control over the type of communication they receive. As a result, they will feel more in command and valued as a customer.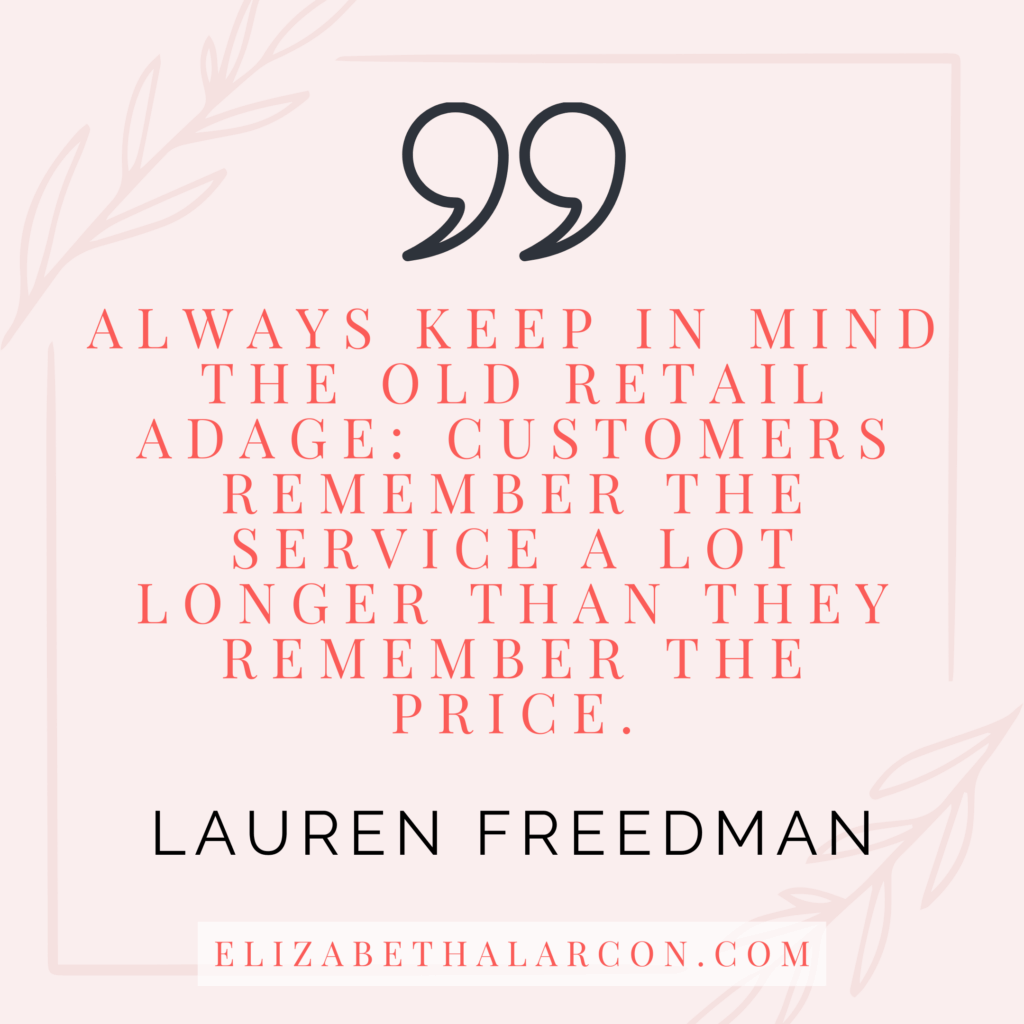 3. Provide training for all of your employees
Train all of your employees well in customer service so that everyone who comes into contact with your customers knows how to treat them properly. This will ensure that your customers always have a positive experience, no matter who they interact with within your business.
Chatbots are a great way to automate customer service and make it more efficient. However, this should not replace human interaction altogether. Your customers should always feel like they are your top priority, and that you care about their experience with your business.
Respond quickly to inquiries and complaints
If your customers have any questions or concerns, it's important to respond quickly. This keeps them from feeling ignored or unimportant and ensures that they have a positive experience with your business. If you do receive a complaint, make sure to acknowledge the issue right away and work towards resolving it as soon as possible.
Anyone on your staff should know how to react to queries and complaints according to standard operating procedures. This will help you better handle customer concerns and make sure that they are dealt with professionally, promptly, and in accordance with your business standards.
Listen to what they have to say
Always be open to hearing your customers' suggestions and feedback on how you can improve your business or give them a better experience. This will make them feel valued and important, and it could potentially lead to valuable new ideas for your business.
When things go wrong during an interaction with a customer, it is important to apologize for the mistake. This shows that you are taking responsibility for the error and want to make things right. Customers will appreciate your honesty and efforts to fix the problem, and this can help them feel more forgiving if there was a mix-up or issue with their order.
4. Offer rewards and loyalty programs
Customer loyalty programs are a great way to show your customers that you value their continued business. Make your customers feel like they are the most important people in the world to you and your business. Offer them rewards, exclusive deals, and discounts for being loyal, and make them feel like they are part of a special club. Make sure to communicate these programs clearly so that they know how much you appreciate them sticking with you.
Send thank-you notes or cards
A handwritten thank-you note is always appreciated, especially in today's digital world. Sending a thank-you card after a purchase or service is a nice touch that will make your customers feel appreciated.
Remember important details about them
When you remember personal details about your customers, it shows that you are truly interested in them as people, not just as potential buyers. This can make a big impression and make them feel very special.
Overall, it's important to give your customers the attention and care that they deserve. By making them feel important in these ten easy steps, you can build strong customer relationships and keep them coming back to your business.
Conclusion
It is important to recognize the value and importance of making customers feel valued and appreciated.
One of the greatest methods to make your consumers feel valued is simply to be polite and responsive throughout all interactions with them or your company. You can assist in creating long-term connections based on mutual respect and comprehension by using names, paying attention actively, providing appreciation through gifts or discounts, and creating relationships founded on respect and understanding.
Automations and systems are amazing, but if we limit ourselves to procedures, systems, techniques, and methods, we could overlook something vital. Customers are people first and foremost, not just a figure in your spreadsheet.

Do you have any other tips on how to make your customers feel important? Share them with me in the comments below!
THIS SITE USES AFFILIATE LINKS. THERE'S NO EXTRA COST TO YOU, BUT I RECEIVE A SMALL COMMISSION WHEN YOU DECIDE TO USE THEM.
---
PIN ME!